The DJI Matrice 350 (M350) is a powerful and versatile drone designed to meet the needs of professional users. With its exceptional performance, extended flight time, robust payload capacity, and enhanced safety features, the M350 offers a comprehensive solution for various applications such as mapping, surveying, inspection, public safety and more. Here are the top features of the M350, showcasing its capabilities in the field.
As one of the most powerful drones in its class, the M350 can reach a maximum flight altitude of 7000m, enabling it to operate in various environments. With a maximum wind resistance of 12m/s, the M350 remains stable and reliable even in challenging weather conditions. Its IP55 protection ensures resistance to dust and water, enhancing its durability and reliability.

With an 55-minute maximum flight time, the M350 provides extended operational capabilities. This industry-leading flight time allows users to cover larger areas, complete complex tasks, and optimize their workflow. It reduces the need for frequent battery changes and maximizes productivity in the field.
The M350 can carry a maximum payload of 2.7kg, making it suitable for a wide range of applications. This payload capacity allows for the integration of various cameras, sensors, such as LiDAR,  Ground Penetrating Systems and other equipment, enabling users to capture high-quality data and perform specialized tasks in a variety of industries.
Equipped with the new TB65 hot-swappable batteries, the M350 ensures uninterrupted flight operations. These batteries provide the ability to swap out depleted batteries for fresh ones without powering off the drone, minimizing downtime. With a rating of 400 cycles, they offer reliable and long-lasting performance. The BS65 battery station further enhances convenience by providing a centralized solution for battery charging, storage, and transport. Real-time battery monitoring through DJI RC Plus allows for efficient battery management.

The M350 prioritizes flight safety with its advanced features. The arm lock indicator prevents take-off if an arm isn't locked correctly, ensuring secure operation. The inclusion of a 1080p night-vision FPV camera improves visibility in low-light conditions, enhancing situational awareness during night operations. Additionally, the M350 utilizes the same sensing and positioning system, CSM radar, and multi-layered redundancy design found in the M300, supporting flight safety and reliability.
The M350 comes with DJI RC Plus, featuring a 7-inch high-bright screen. This controller supports Dual Operator Mode, allowing collaborative flight control for complex missions. The standard WB37 external battery offers up to six hours of operating time, catering to various operation needs. With DJI RC Plus, users can efficiently manage and control the M350, ensuring a seamless and intuitive piloting experience.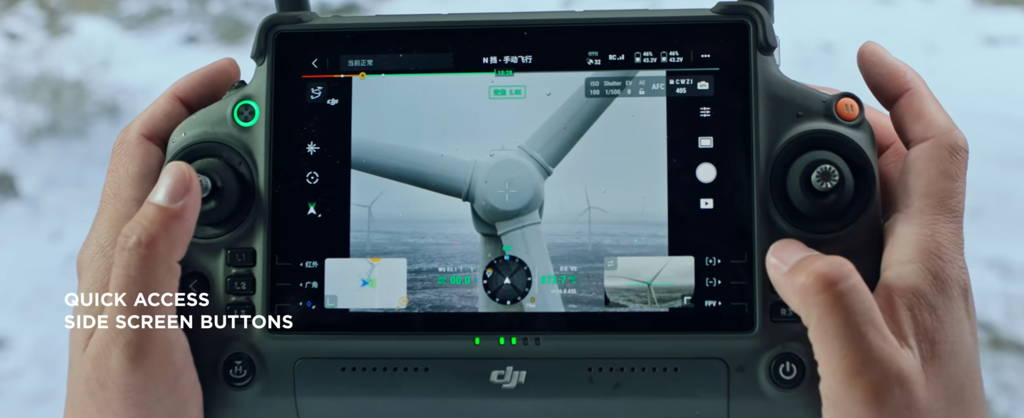 Limitless Payload Options
The M350 is compatible with a wide range of payloads, providing users with limitless options for data collection and analysis. It supports popular payloads such as the Zenmuse H20 Series, Zenmuse H20N, Zenmuse L1, and Zenmuse P1. Moreover, all third-party payloads compatible with the M300 are also compatible with the M350, offering versatility and flexibility for various applications.