ALSO SEE:


Overview 
BUILT TO EMPOWER. DESTINED TO SERVE.
The new DJI Mavic 2 Enterprise is here to revolutionize the way commercial drones are integrated in the workforce. The Mavic 2 Enterprise is designed specifically for commercial operators who are looking to expand their capabilities in close range missions. The new Enterprise system combines advanced controls with modular accessories to allow users to customize the payload to fit the job at hand. The Mavic 2 Enterprise is ready to be deployed in a moments notice with accessories designed for inspections, fire response, search and rescue and more.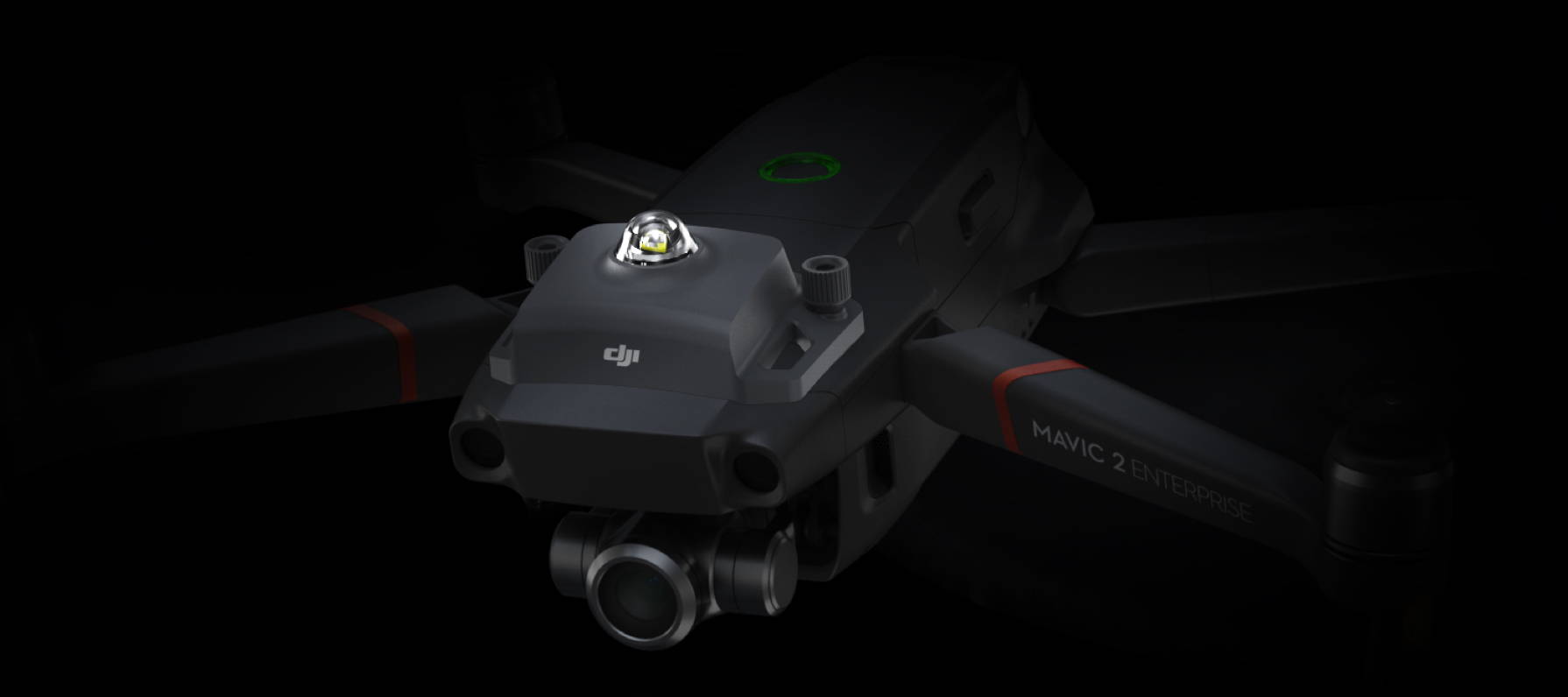 Mavic 2 Enterprise Beacon
Conduct night missions with additional safety by allowing other pilots to easily spot the drone from a distance while operating on a job site. Designed with aviation standards in mind, the bright flashing strobe is visible from 3 miles (4km).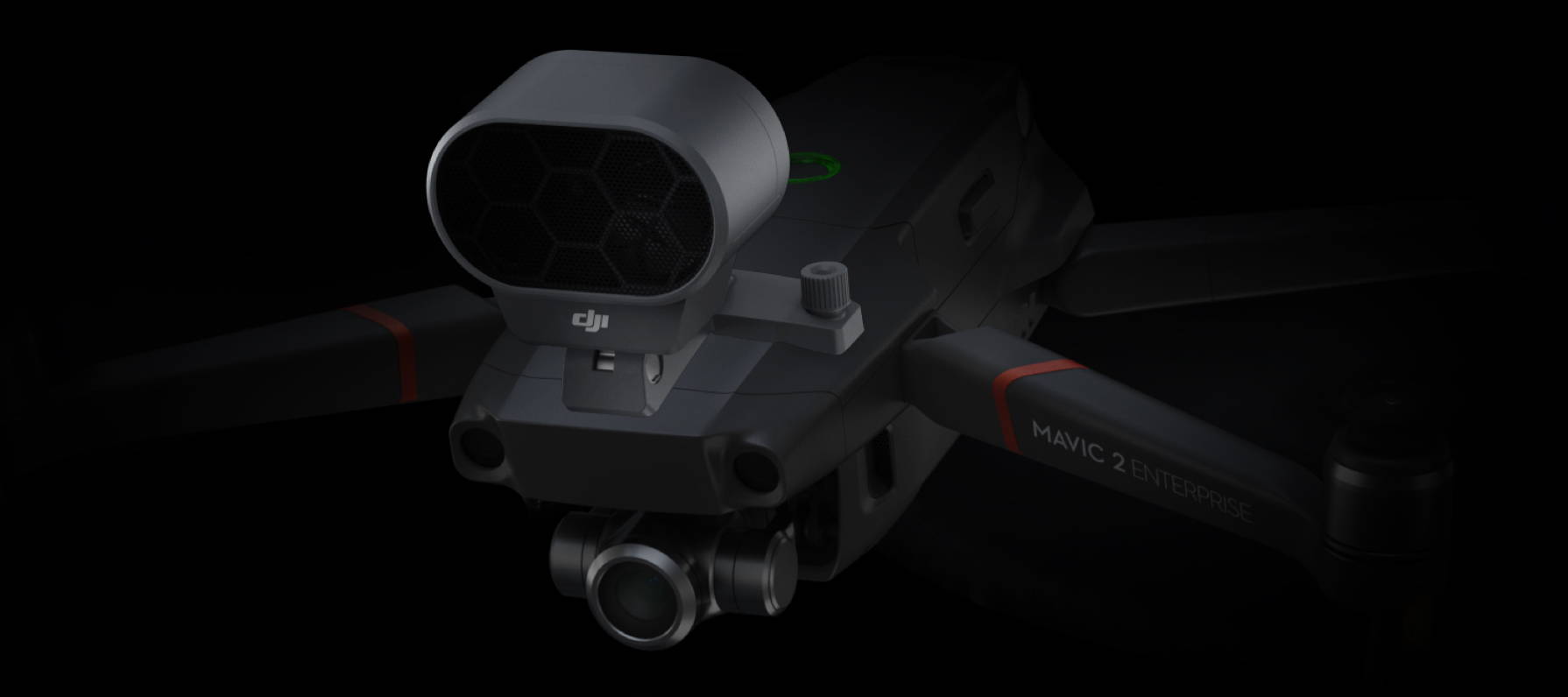 Mavic 2 Enterprise Speaker
Effectively communicate with ground teams in emergency situations to guide pilots and first responders throughout your mission. Save up to 10 pre-recorded audio files as well as broadcast up to 60 seconds of audio at 100 decibels measured from 1 meter.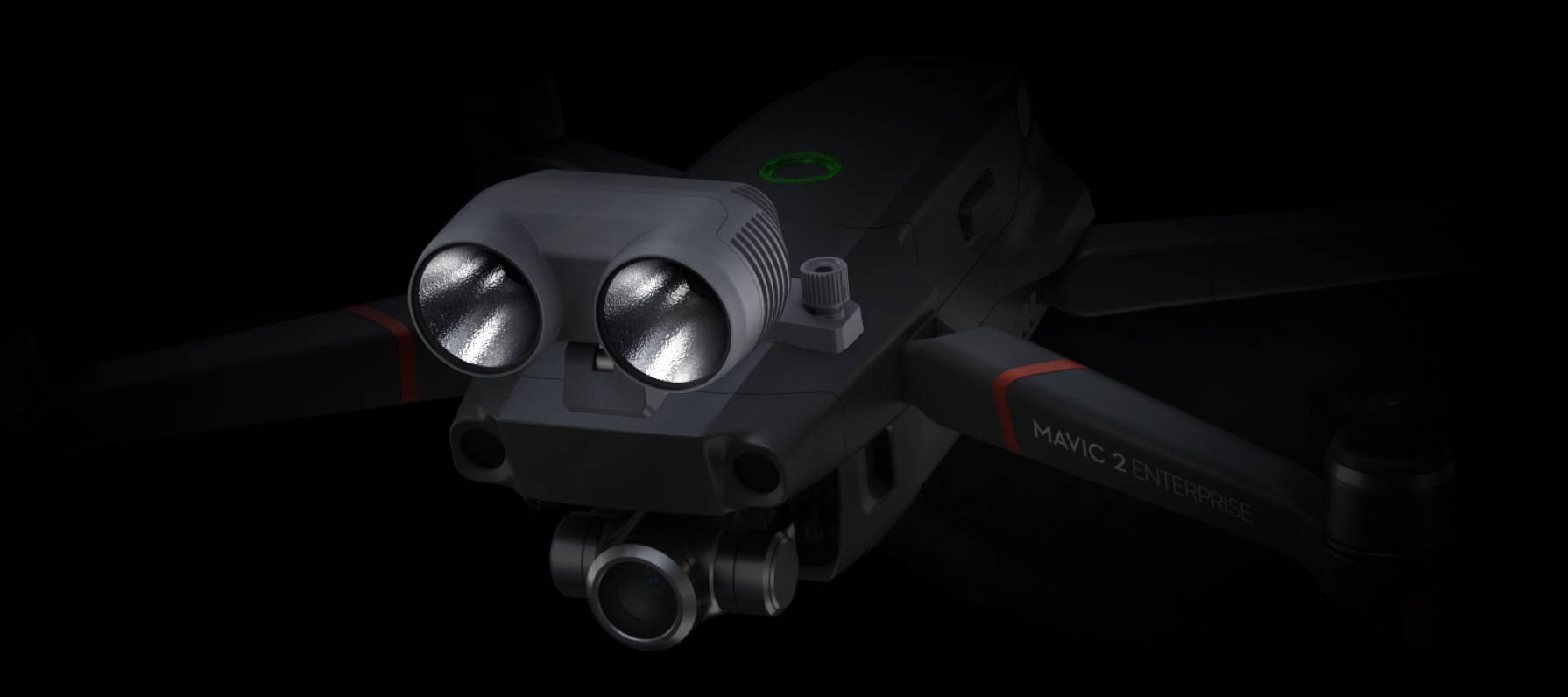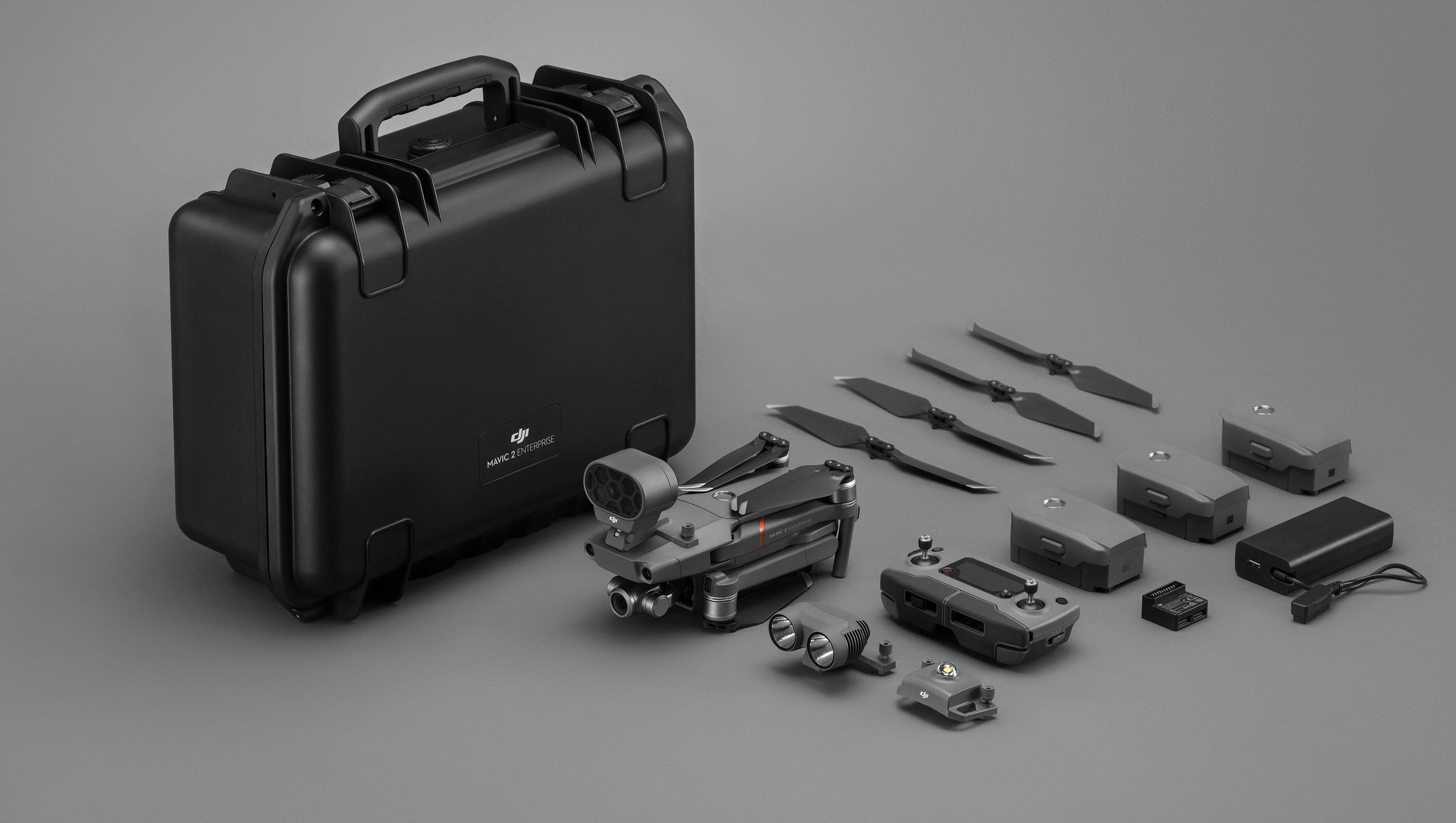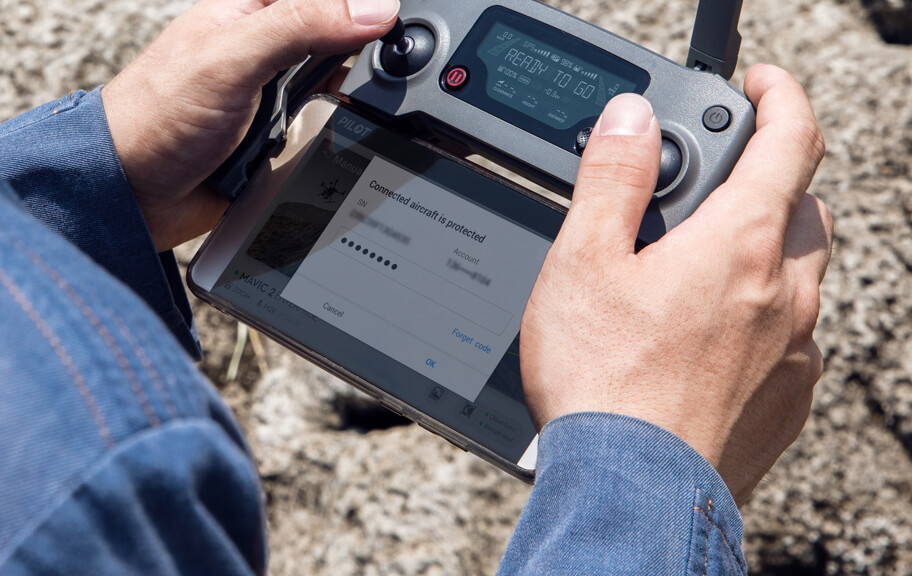 Secure Aircraft & Data
Users can now password protect their device and all its functions and features. The new enhanced data security features assures that access to your drone and its on-board data storage is secure, ultimately preventing the disclosure of any sensitive information.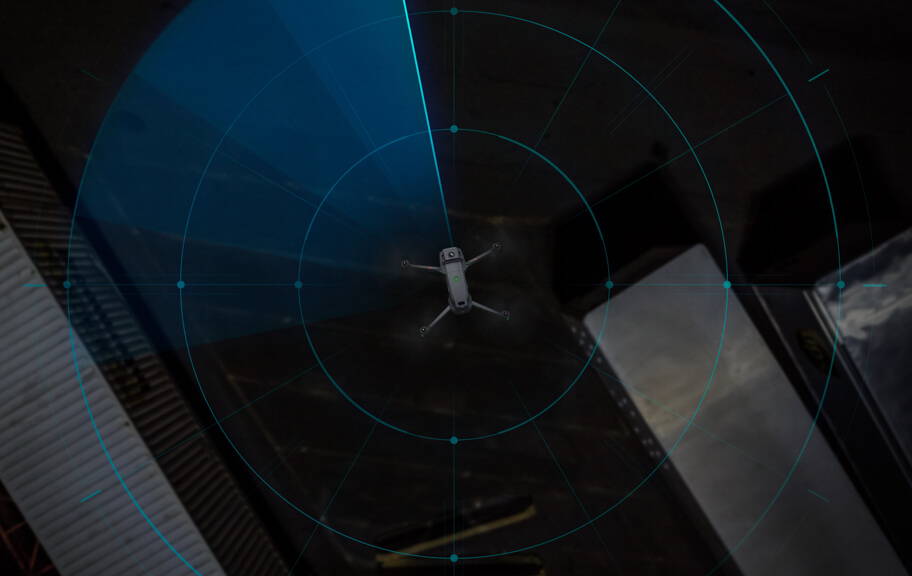 Always Know Your Surroundings
This new feature actively avoid flight hazards with DJI AirSense technology, which enhances your airspace safety by providing real-time positioning alerts of nearby manned aircraft.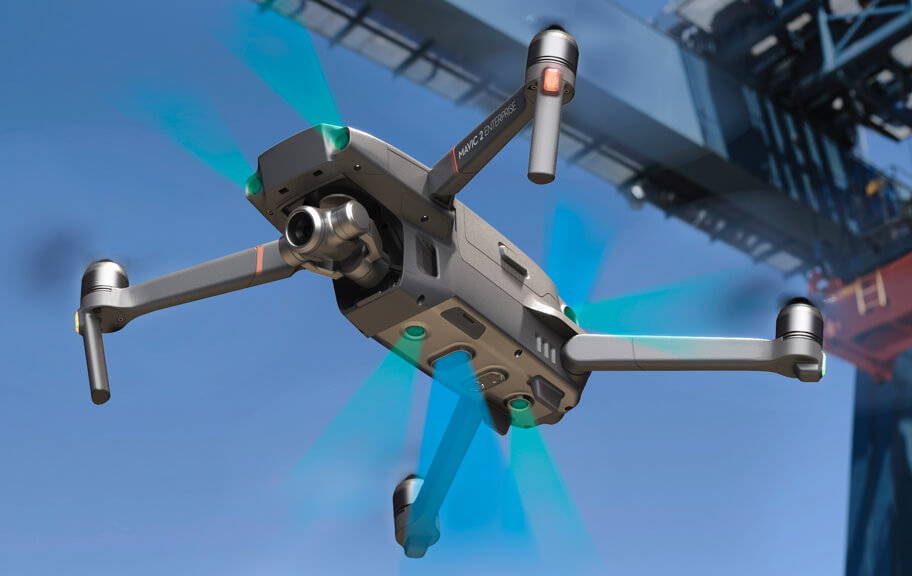 Fly Safe.

With enhanced FlightAutonomy the Mavic 2 provides users with omnidirectional obstacle sensing, an advanced system that combines 8 high-resolution vision and 2 infrared sensors. By utilizing multiple sensors that measure the relative distance and speed between the aircraft and its surroundings, pilots can now fly with increased stability and control in complex environments.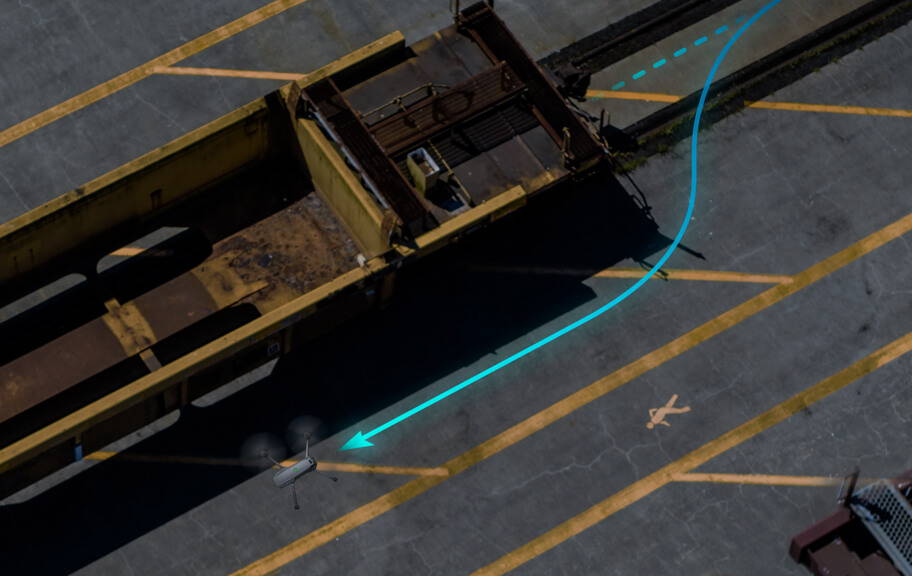 Sense, Avoid, Fly Another Day.
The Advanced Pilot Assistance System enables the drone to detect objects at every move to allow pilots to easily maneuver over or around obstacles in any environment.




Zoom in, Zoom out.
2x Optical, and 3x digital zoom camera allows operators to carry out close-range missions while staying close to the action, but out of harm's way.
Compact and Travel Friendly
The Mavic 2 Enterprise weighs only 905 grams and folds up for easy storage and transport. The compact design makes bringing the drone along to job sites much more convenient for commercial operators.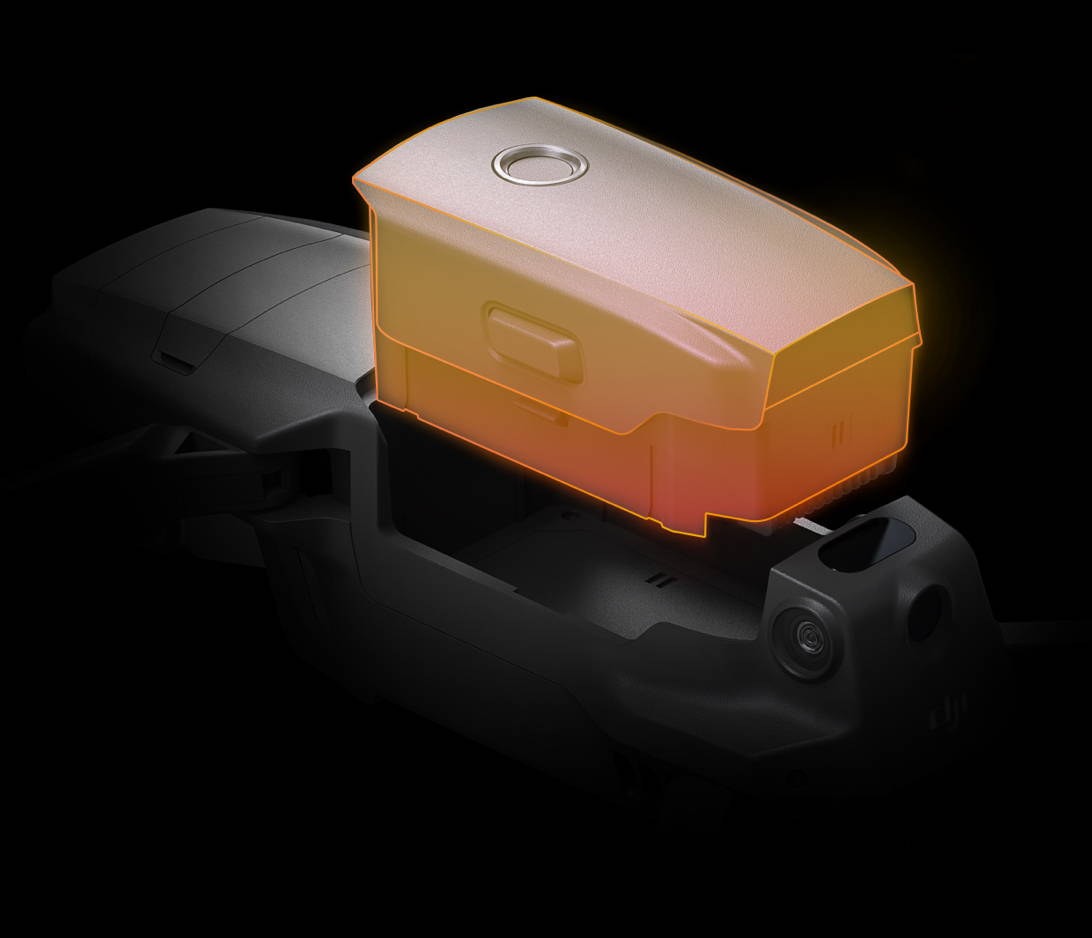 Self-heating Batteries
When operating in harsh environmental conditions, the DJI Mavic 2 Enterprise features self-heating batteries that can work in sub-zero temperatures. Fly where you've never thought possible with added peace-of-mind in colder climates.

Using the new GPS timestamping records, the drone saves the exact time and date an image was taken. This level of accuracy is essential to leverage data for industry applications.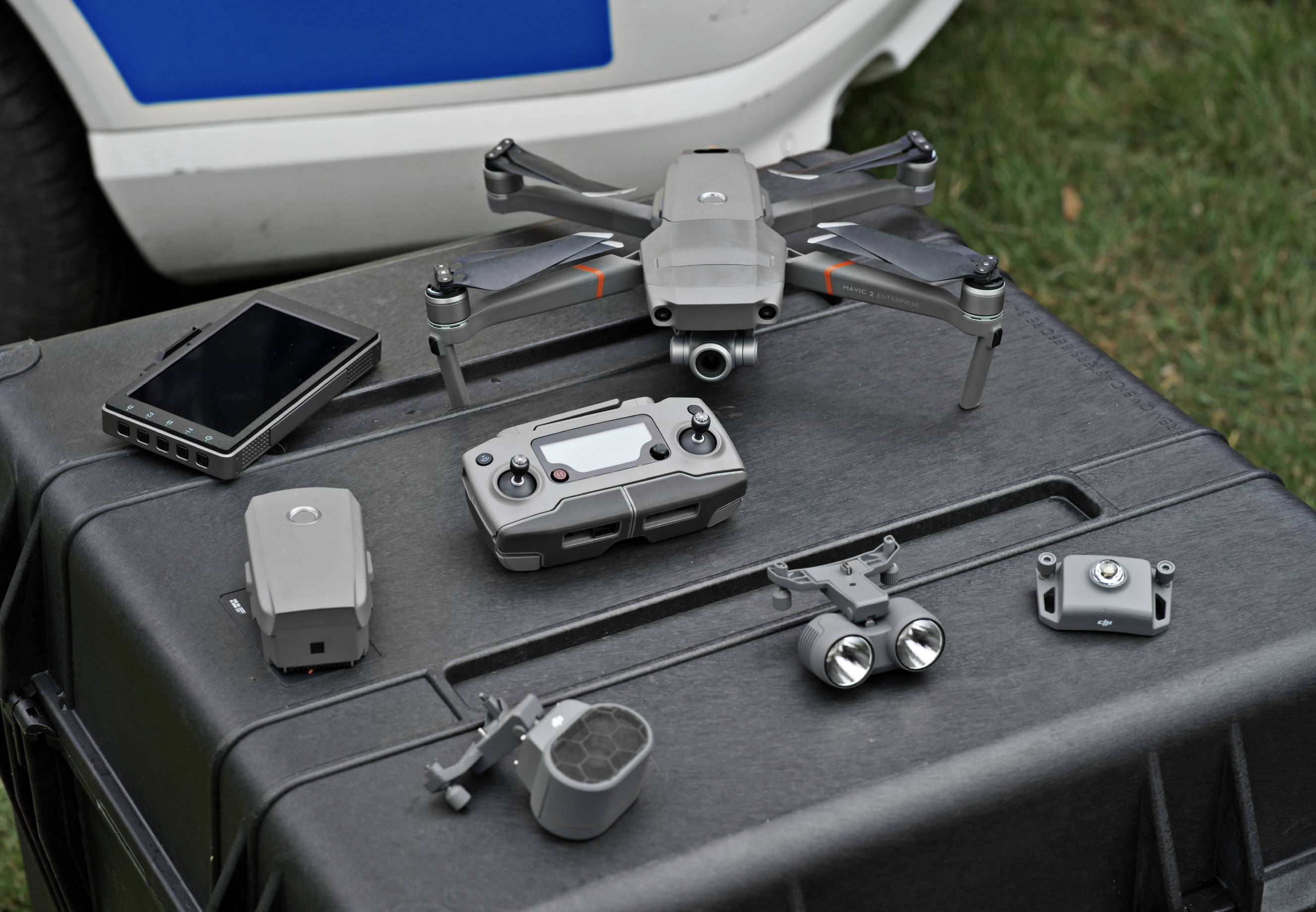 Smart Controls At Your Command.
Users can fly with added confidence using a range of advanced controls that are cutting edge in design and refined to provide the ultimate flying experience to pilots of every experience level.


USAGE ACROSS A WIDE RANGE OF APPLICATIONS

Firefighting

Fight fires and save lives with greater ease and more mobility.

Law Enforcement
Capture surveillance data from the skies to maintain public safety in your community.

Emergency Response
Locate missing persons and respond tactically and efficiently in emergency situations.



Powerline Inspection
Safely conduct aerial inspections from a safe distance by utilizing the zoom feature and enhance efficiency.

Cell Tower Inspection
Complete aerial inspections with added safety and improved optimization.

Bridge Inspection
See the bigger picture and finer details when inspecting complex structures without getting to close.
Specs

AIRCRAFT

M2E SPOTLIGHT

Takeoff Weight(Without Accessories)
905 g
Dimensions
68x60x41 mm
Dimensions(L×W×H)
Folded: 214×91×84 mm
Port Type
USB Micro-B
Unfolded: 322×242×84 mm
Operating Range
30 m
Unfolded+Spotlight:322×242×114 mm
Power
Max 26W
Unfolded+Beacon:322×242×101 mm 
Illuminance
FOV17°, Max:11lux @ 30m Straight
Unfolded+Speaker:322×242×140 mm

M2E BEACON

Diagonal Length
354 mm
Dimensions
68x40x27.8 mm
Max Ascent Speed
5 m/s (S-mode[1])
Port Type
USB Micro-B
4 m/s (P-mode)
Power
Avg. 1.6W
4 m/s (S-mode with accessories[1])
Controllable Range
5000 m
4 m/s (P-mode with accessories)
Light intensity
Min Angle:55 cd;
Max Descent Speed
3 m/s (S-mode[1])
Light intensity:157 cd
3 m/s (P-mode)

M2E SPEAKER

Max Speed (near sea level, no wind)
72 kph (S-mode,without wind)
Dimensions
68x55x65 mm
50 kph (P-mode,without wind)
Port Type
USB Micro-B
Max Service Ceiling Above Sea Level
6000 m
Power
Max 10W
Max Flight Time (no wind)
31 min (at a consistent speed of 25 kph)
Decibel
100 db @ 1 meter distance
Max Hovering Time (no wind)
29 min
Bitrate
16 kbps
27 min (with beacon turned on)

GIMBAL

28 min (with beacon turned off)
Mechanical Range
Tilt: -135 – +45° 
22 min (with spotlight turned on) 
Pan: -100 – +100°
26 min (with spotlight turned off)
Controllable Range
Tilt: -90 – +30° 
25 min (with speaker turned on) 
Pan: -75 – +75°
26 min (with speaker turned off)
Stabilization
3-axis (tilt, roll, pan)
Max Wind Speed Resistance
29–38 kph
Max Control Speed (tilt)
120°/s
Max Tilt Angle
35° (S-mode, with remote controller)
Angular Vibration Range
±0.005°
25° (P-mode)

CAMERA

Max Angular Velocity
200°/s(S-Mode)
Sensor
1/2.3" CMOS;
100°/s(P-Mode)200°/s(S-Mode)
Effective pixels:12 Megapixels
100°/s(P-Mode)
Lens
FOV:82.6°(24 mm);47.8°(48 mm) 
Operating Temperature Range
-10°C to 40°C
Format equivalent:24-48 mm 
GNSS
GPS+GLONASS
Aperture:f/2.8(24 mm)-f/3.8(48 mm) 
Operating Temperature Range
Vertical:
Auto focus at :0.5 - ∞
±0.1 m (with Vision Positioning)
ISO Range
Video:
±0.5 m (with GPS Positioning)
100-3200
Horizontal: ±0.3m (with Vision Positioning)
Photo:
±1.5 m (with GPS Positioning)
100-1600(Auto)
Operating Frequency
2.400 - 2.4835 GHz
100-3200(Manual)
5.725 - 5.850 GHz
Shutter Speed
8-1/8000s
Transmission Power (EIRP)
2.400 - 2.4835 GHz
Still Image Size
4000×3000
FCC:≤26 dBm 
Still Photography Modes
Single shot
CE:≤20 dBm 
Burst shooting: 3/5/7 frames 
SRRC:≤20 dBm
Auto Exposure Bracketing (AEB): 3/5 bracketed frames at 0.7 EV Bias
MIC:≤20 dBm5.725-5.850 GHz
Interval (JPEG: 2/3/5/7/10/15/20/30/60s RAW:5/7/10/15/20/30/60s)
FCC:≤26 dBm 
Video Resolution
4K: 3840×2160 24/25/30p
CE:≤14 dBm
2.7K: 2720×1530 24/25/30/48/50/60p
SRRC:≤26 dBm
FHD: 1920×1080 24/25/30/48/50/60/120p
Internal Storage
24 GB
Max Video Bitrate
100 Mbps

SENSING SYSTEM

Color Mode
D-Cinelike
Sensing System
Omnidirectional Obstacle Sensing [2]
Supported File System
FAT32(≤ 32 GB );exFAT(> 32 GB)
Forward
Precision Measurement Range:0.5 - 20 m
Photo Format
JPEG,DNG (RAW)
Detectable Range: 20 - 40 m
Video Format
MP4 / MOV (MPEG-4 AVC/H.264, HEVC/H.265)
Effective Sensing Speed: ≤ 14m/s

CHARGER

FOV: Horizontal: 40°, Vertical: 70°
Input
100-240V, 50-60Hz, 1.8A
Backward
Precision Measurement Range: 0.5 - 16 m
Output
Main: 17.6V ⎓ 3.41A or 17.0V⎓3.53 
Detectable Range: 16 - 32 m
USB: 5 V ⎓ 2 A
Effective Sensing Speed: ≤ 12m/s
Voltage
17.6±0.1V
FOV: Horizontal: 60°, Vertical: 77°
Rated Power
60W
Upward
Precision Measurement Range: 0.1 - 8 m

INTELLIGENT FLIGHT BATTERY

Downward
Precision Measurement Range: 0.5 - 11 m
Capacity
3850 mAh
Detectable Range: 11 - 22 m
Voltage
15.4 V
Sides
Precision Measurement Range:0.5 - 10 m
Max Charging Voltage
17.6 V
Effective Sensing Speed: ≤ 8m/s
Battery Type
LiPo
FOV: Horizontal: 80°, Vertical: 65°
Energy
59.29 Wh
Operating Environment
Forward, Backward and Sides:
Net Weight
297 g
Surface with clear pattern and adequate lighting (lux > 15)
Charging Temperature
5℃ - 40℃
Upward:
Operating Temperature Range
-10℃ to 40℃
Detects diffuse reflective surfaces (>20%)
Heating Methods
Manual Heating;Auto Heating
(walls, trees, people, etc.)
Heating Temperature
-10℃ to 6℃
Downward:
Heating duration:
500s (Max)
Surface with clear pattern and adequate lighting (lux > 15)
Heating Power
55W (Max)
Detects diffuse reflective surfaces (>20%) 
Charging Time
90 min
(walls, trees, people, etc.)
Max Charging Power
80W

REMOTE CONTROLLER

APP / LIVE VIEW

Operating Frequency
2.400 - 2.483 GHz; 5.725 - 5.850 GHz
Video Transmission System
OcuSync 2.0
Max Transmission Distance(Unobstructed, free of interference)
2.400 - 2.483 GHz; 5.725 - 5.850 GHz
Mobile App
DJI PILOT
FCC: 8000 m
Live View Quality
Remote Controller:
CE: 5000 m
720p@30fps / 1080p@30fps
SRRC: 5000 m
Max Live View Bitrate
40 Mbps
MIC: 5000 m
Latency
120 - 130 ms
Operating Temperature Range
0℃ to 40℃
Required Operating Systems
ios 9.0 or later Android 4.4.0 or later
Transmitter Power(EIRP)
2.4 - 2.4835 GHz 

SUPPORTED SD CARDS

FCC:≤26 dBm;CE:≤20 dBm;SRRC:≤20 dBm MIC:≤20 dBm
Supported SD Cards
Micro SD™ 
5.725 - 5.850 GHz 
Supporting Micro SD with capacity up to 128 GB and R/W speed up to UHS-I Speed Grade 3
FCC:≤26 dBm;CE:≤14 dBm;SRRC:≤26 dBm

FOOTNOTES

Battery
3950mAh
Footnotes
[1] Remote controller required.
Charging Time
2 hours 15 min
Operating Current/Voltage
1800mA ⎓ 3.83V
[2] Omnidirectional Obstacle Sensing includes left/right, up/down, and forward/backward obstacle sensing. Sensing for left/right directions is only available in ActiveTrack or Tripod Mode. Omnidirectional Obstacle Sensing does not fully cover the circumference of a 360-degree arc. And left and right obstacle sensing system only works in specific modes and environments. DJI warranty does not cover any loss caused by crashing when flying left or right, even when ActiveTrack or Tripod mode is activated. Please be aware of your surroundings and App notifications when operating the Mavic 2 to ensure safety. These specs have been determined through tests conducted with the latest firmware. Firmware updates can enhance performance, so updating to the latest firmware is highly recommended."
Mobile Device Holder
Thickness Supported:6.5-8.5 mm,Max length: 160 mm
RC Size
Folded: 145×80×48 mm (L×W×H)
[3]These specs have been determined through tests conducted with the latest firmware. Firmware updates can enhance performance, so updating to the latest firmware is highly recommended."
Unfolded: 190×115×100 mm (L×W×H)
Supported USB port types
Lightning, Micro USB (Type-B), USB Type-C™


Contact Us